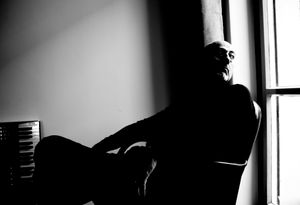 Bio
Terms like "dense lyricism" and "emotional impact" are used to describe the playing of Tonino Miano. While his analytical mind (he holds a degree in physics from the City College of New York) parses logical progressions for his improvisations, his artist's soul compelled one reviewer to call his work, "Very beautiful and very, very sophisticated."
He has performed in venues such as Abrons Art Center, NYU, Knitting Factory, WKCR, 13in13 Jazz Festival, Roulette, Binnenpret, Apollohuis, Stork Music Festival, Filarmonica Laudamo, Oltremente Music Festival, and his list of collaborations include Brian Groder, Mirio Cosottini, Andrea Melani, Dinu Ghezzo, Edoardo Marraffa, Frantz Loriot, Jaap Blonk, Marco Cappelli, Lorenzo Brusci, Alessio Pisani,  Jim Pugliese and Francesco Cusa. He also holds a Degree in Musicology from the University of Bologna and a Degree in Classical Piano Performance with maximum honors from the V. Bellini Conservatory in Caltanissetta (Italy). He has also been the co- curator (with Frantz Loriot) of the AVANT POST, a New York monthly series dedicated to avant garde/improvisational music hosted by Temple M.
Among Mr. Miano's releases
CARDINAL
(Grimedia/Impressus, 2009) has received critical acclaim and has appeared in two European top ten lists, as well as being included in the list of most notable CDs of the decade by AllAboutJazz/Italia. Some of his projects are: 
FluiDensity
, a collaboration with trumpeter/composer Brian Groder, and
The Inner Life of Residue
with Mirio Cosottini. His latest release, 
Human Pieces
(with Cusa/Groder/Grosso) is out now on
Leo Records
.  Tonino Miano is also the author of the highly praised 
Non-Tonal Technical Studies
for Piano, a two-volume collection of pattern-studies deemed  "Fascinating" by Stephen Hough, "Highly recommended" by Richie Beirach and hailed by
International Piano Magazine
as an "exhaustive, comprehensive and extraordinary labour of love".
He lives in Catania (Italy) after almost three decades in New York City. Here he has expanded further his musical vocabulary by dvelving in the world of synthesizers and has began drawing and painting.